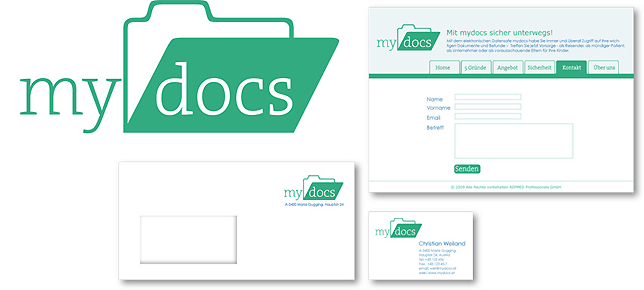 client_ Aspmed
job_ logo for "mydocs", online service provider for the management of health information. Medical studies and documents are stored in a secured database which users can access from any computer

solution_ the term "docs" is contained within the graphic of an opened file. "docs" refers both to "documents" and to "doctors".

kunde_ Aspmed
aufgabe_ Logo für "mydocs", Online Dienstleistungsfirma für Gesundheitsdatenverwaltung. Medizinische Untersuchungen und andere Dokumente sind in einer sicheren Datenbank abgespeichert und können vom User überall abgerufen werden.

lösung_ Die Figur rund um das Wort "docs" steht für eine halbgeöffnete Mappe sowie auch für ein Hängeregister. "docs" steht sowohl für Doctor wie für Documents.